What is the difference between domain name and web hosting?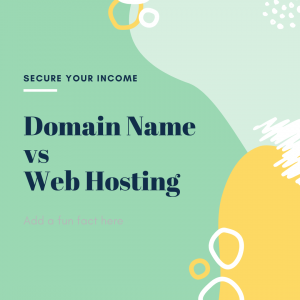 Domain Name is the name that follows after you typed in www. For example, my domain name is jason-khoo.com. This is my online (digital) asset which I owned legally. It is mine as long as I continue to pay the registration fees for it. On average, it cost me about USD 20 per year or less. From a layman perspective, your domain name is like you in the physical world.
Web hosting is the place where you build your content. Content could be a website, a blog, vlog, online shop, forum or a combination of the contents listed. Web hosting is like your house. You can choose to stay in an apartment, a house, a villa, etc. You can buy or rent a house in any country you want. Web hosting behaves the same way.
Domain name (you) is a digital asset you can add value to. If you don't like the web host (your house), your domain name, together with your content (you) can be moved to another web host (house). What you build (content) is your online (digital) assets which nobody can take away from you. It is the only thing you have a legal right to.