The secret of listing your website at the top of the search engine.
Assuming that you don't know who is everydayExcel and are looking for an Excel course, without any recommendation, you would probably go to Google and do a search for Excel course. The results listed everydayExcel right on top, beating 102 million websites in the process. 
Or suppose, you would like to find out the benefits of honey and you entered the search in Google. The website www.benefits-of-honey.com beats 71.2 millions others to appear on top. And the listing is free.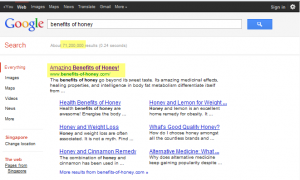 Is that something you wish would happen to your company website?
If that is how you want your website to perform, we have good news for you. We are conducting a evening networking session to share with you our little secret of getting the number one position without having to pay Google a single cent. It is by any means easy feat but it is achievable, just like what you see in the pictures.
It is not going to cost you an arm and a leg to achieve this but with some effort, our system will be able to list your company at the top of the search engine and have more enquiries coming your way.
We are planning a seminar cum networking session after the Chinese New Year to share with you our experience. So if you think that you want to compete online successfully against the big boys without burning a hole in your pocket, come and join us in this evening seminar (7pm to 9.30 pm) happening on 27 Jan 2012.
Location: Our training room at International Plaza #26-02A
Date: 27 Jan 2012
Time: 7pm to9.30pm
Price: S$20 per pax
Places are limited. Sign up early to avoid disappointment
Seminar Outline
The difference between website and blog and which one should you use.
What is SEO and what it can do to your website.
Demystify all the technical terms related to websites.